Srinivas institute of technology is is spread over 20 acres of land. The total built up area of the school is 8000 Sq metre with all amenities. Substantial care has been taken to retain the existing vegetation of the place, which gives shades to the informal seating areas. The layout of the College encourages interaction among students and breaks down the barrier between faculty and students aiding a cordial learning atmosphere.
SSA campus incorporates the following amenities and facilities:
---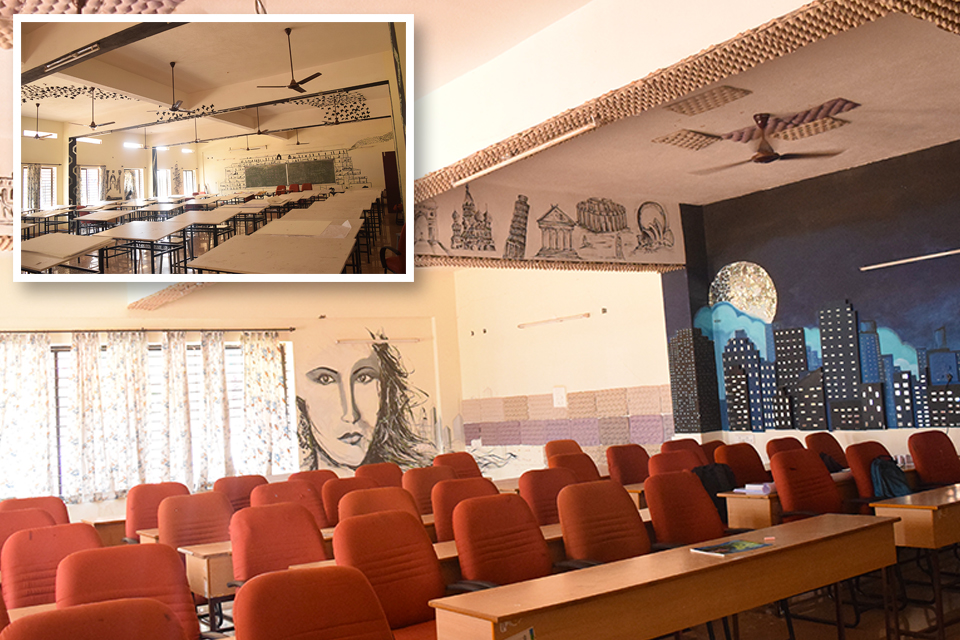 ARCHITECTURE STUDIO & CLASS ROOMS
The spacious studios and class rooms are designed in such a way that there is good natutal light and ventilation for the interior spaces. School has 10 Studios equipped with A1 size 40 drafting tables with stools in each studio. The classrooms have built in projection system for lectures. Each class room hosts 40 students with cushion chairs.
---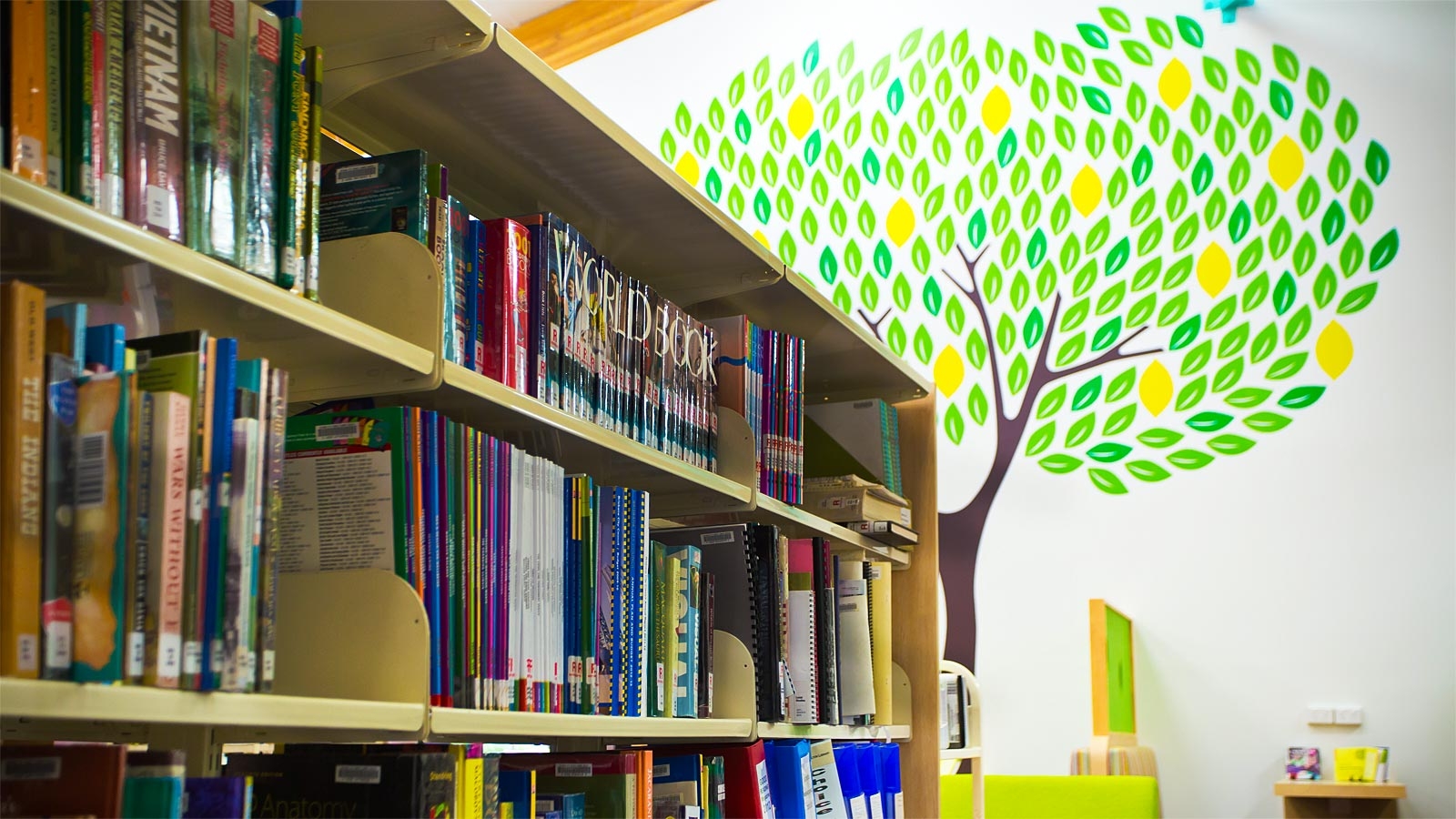 LIBRARY
The School has a well stacked library which is frequently upgraded with books on various subjects. Library Services provides support to teaching and research at the University. It is responsible for building and maintaining high quality library. It also supports faculty members and students in enriching teaching, learning and research at the University. Library has architectural books, construction books, Project reports, and Thesis books, national & international Journals/Periodicals etc.
---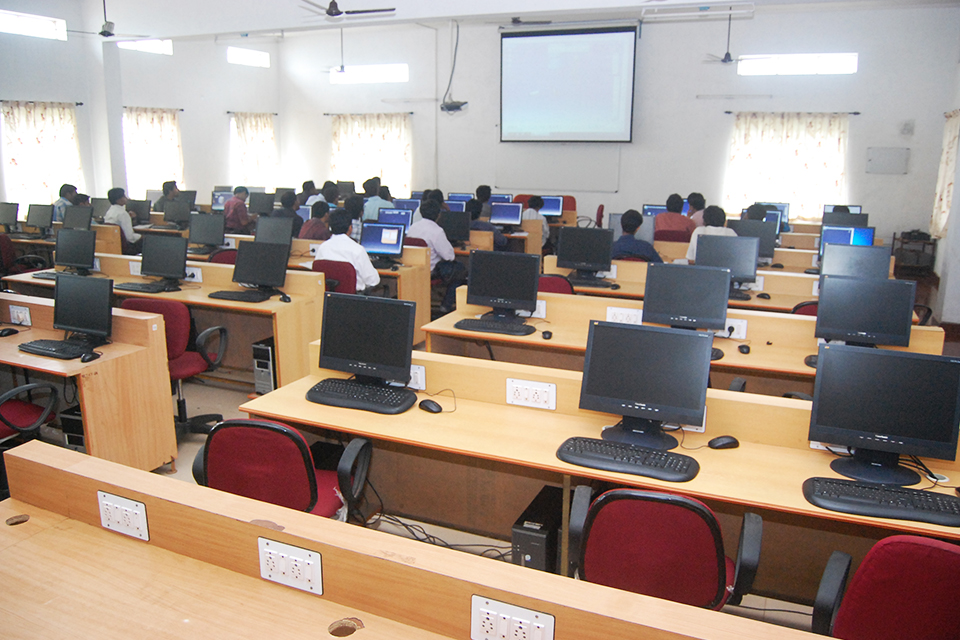 CADLAB
The department has a computer laboratory with 40 computers, 2no.A3 size printers, A0 Plotter. All the Systems has broadband internet connections with necessary software's like Autocad, Revit, Sketch up, Photoshop, 3DS Max etc.required to carry out regular academic work and design projects are available in the lab.
---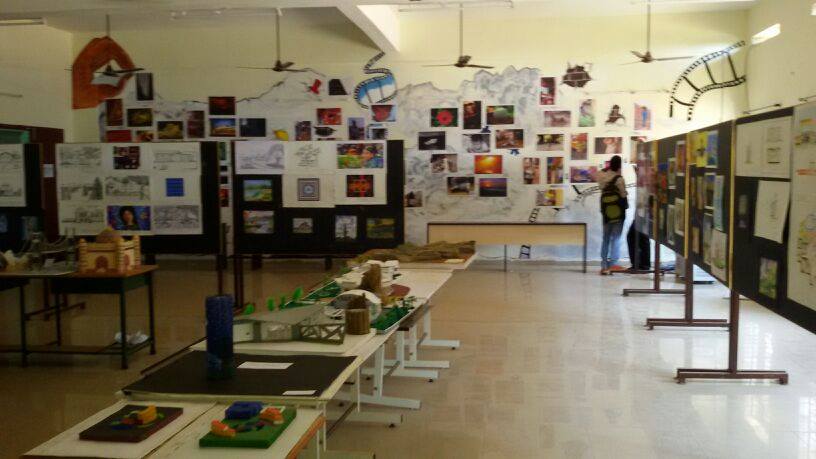 EXHIBITION SPACE
The Exhibition Hall is dedicated to showcase the top best design presentations & models. The showpieces are an inspiration to other students to set their standards higher. The works are constantly replaced by work completed in different subjects like Design, Model making, Construction, Graphics, History and study tours. The Hall is open to public during design fests, workshops, Conferences etc.
---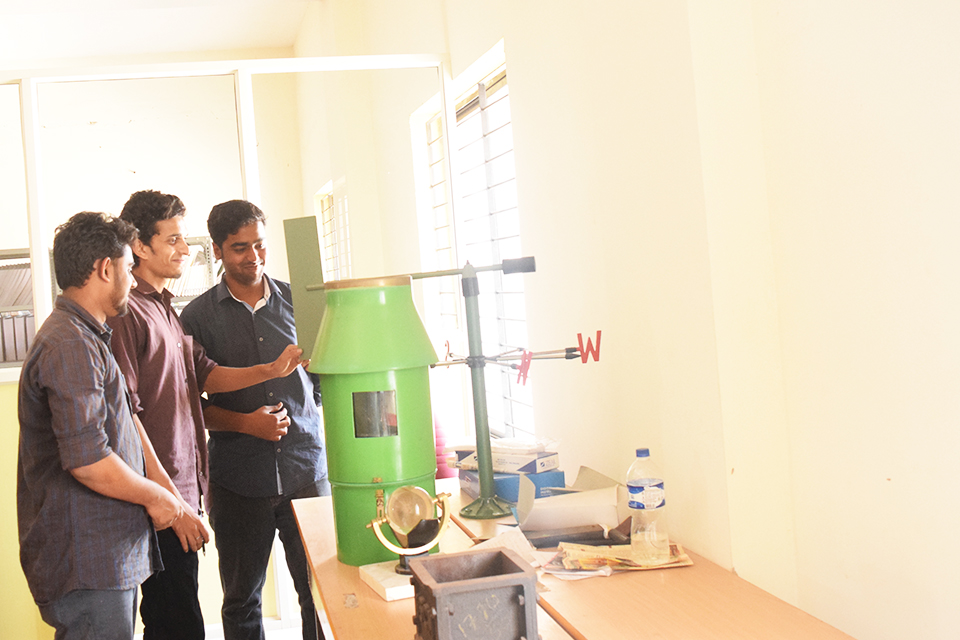 CLIMATOLOGY LAB
The lab consists of equipments like Lux meter, Digital Anemo Meter, Automatic Rain gauge, Whirling Hygro meter, Wet & Dry bulbs, Thermo meter, Stevenson screen, Wind wane, Sunshine Recorder, Pyranometer, Cube mould etc.
---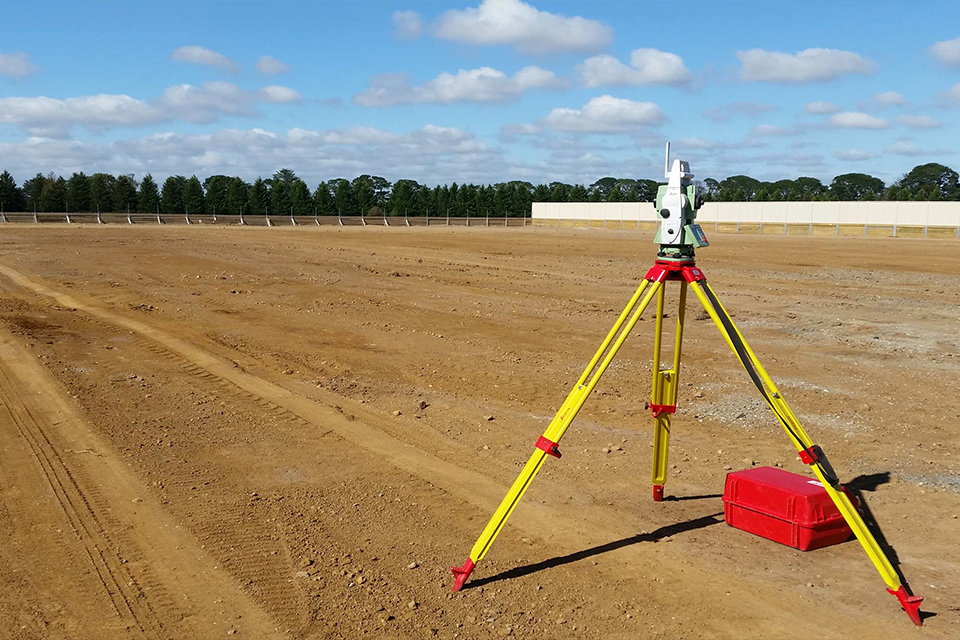 SURVEY LAB
The lab consists of equipments like Theodellite survey, Dumpy level, Spirit level, Total station, Ranging rods, Measuring tape, Chain, tripod, Table etc. which is useful to carryout Project survey work on the field.
---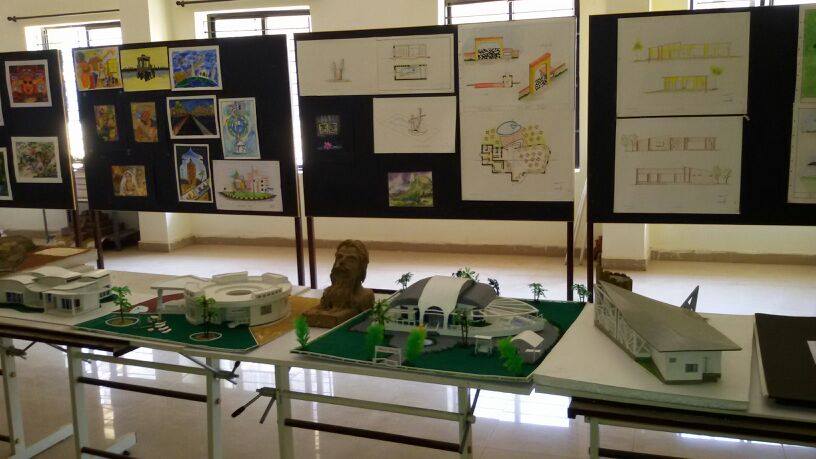 MATERIAL MUSEUM
The Material Museum has a vast collection of many types of Materials like Stone, Bricks, Wood, Glass, Steel, Aluminium samples, samples of fixtures & construction models. This Museum facilitates the students to get the real world feel of the building construction & material applications.
---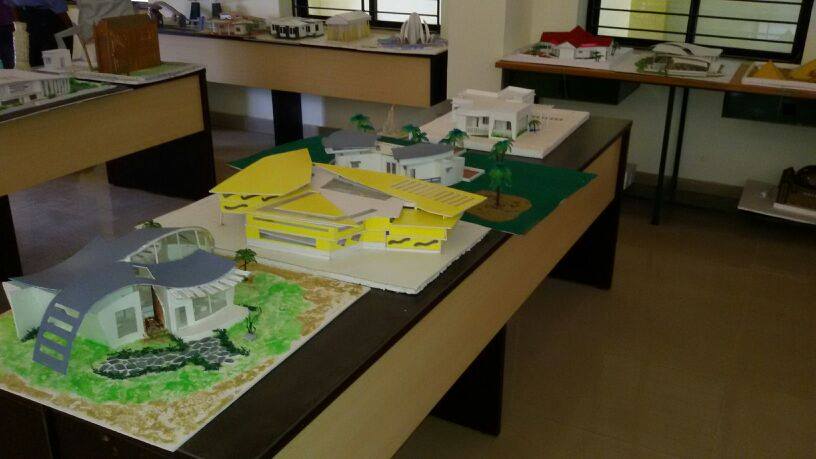 MODEL MAKING STUDIO
Model Making Studio is required for developing 3D Visualization of the students & better understanding of working with different materials like Paper, Card board, POP, Balsa wood, Clay, fibre glass, plywood Thermo coal etc. The studio is equipped with facilities like wood working equipments, Stone engraving equipments, which helps the students to explore the strength of each material as they build models from them & utilize this knowledge in their design subjects.
---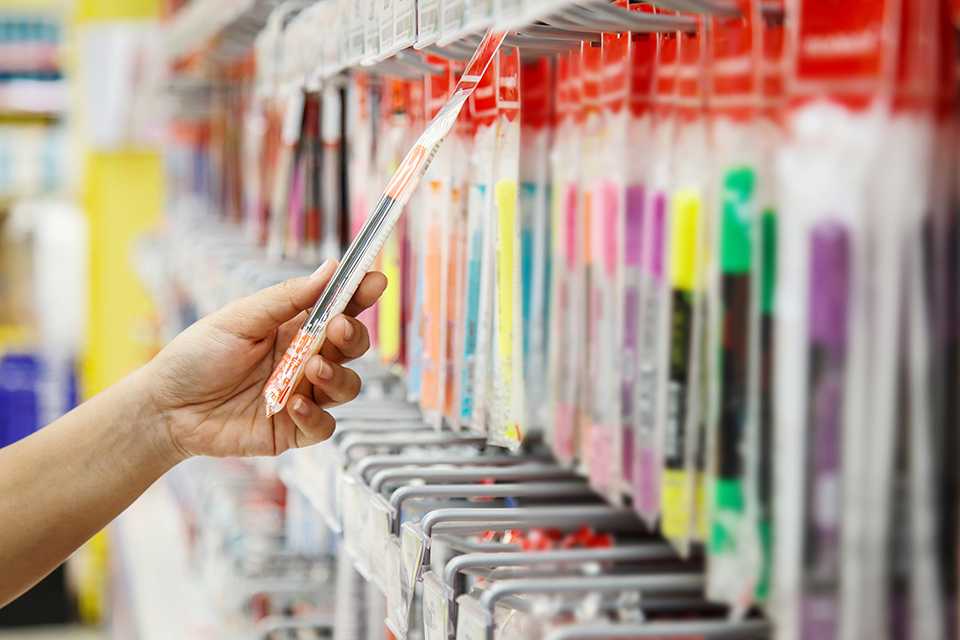 STATIONERY STORE
A dedicated stationary store is in the campus, with fixed timings, to facilitate all necessary stationary requirements for the students. Drawing equipment, sketch books, different grade of paper and model making material is available in the store.
---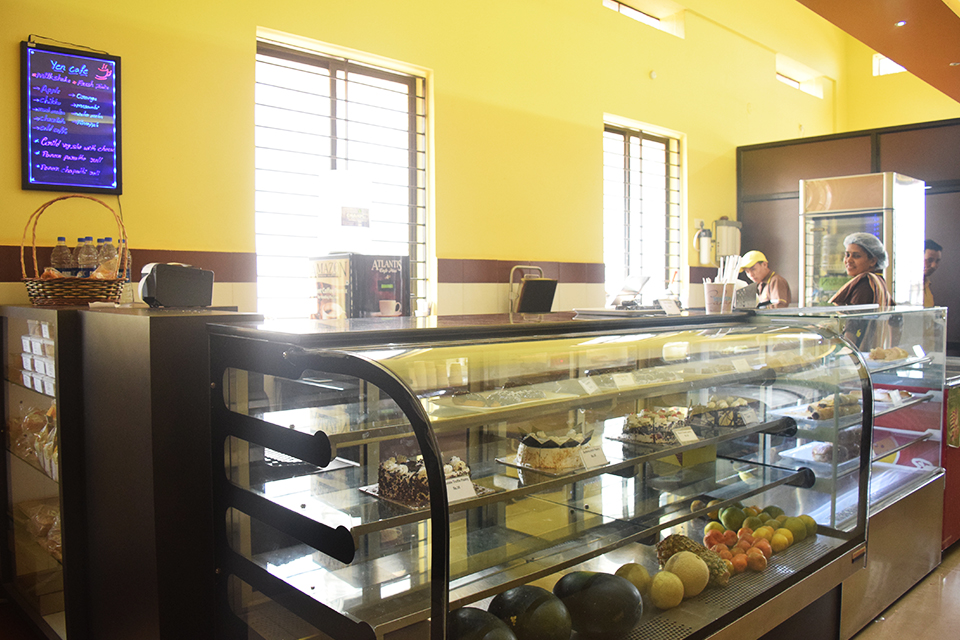 CANTEEN
Campus has got 3 canteens which offers very good vegetarian food. Out of this one canteen is exclusively for staffs. Apart from this there is one Bakery and Juice centre which is exclusively for students.
---
OTHER FACILITIES
Spacious construction yard
Open playground
Informal seating area
Staff lounge area
Strong placement tie ups
Transportation facilities from various parts of the city
Green Campus which is safe and secure
NATA Test Centre
500 capacity auditorium
Wi-Fi enabled campus
Separate hostel for Boys and Girls
ATM centre
Advanced Auditorium, Seminar Halls and PA systems
Flexible, student-centered approach
Practical, industry centric approach
150 capacity Seminar hall with audio-visual facility with overhead projectors